Welcome to TNT Airworks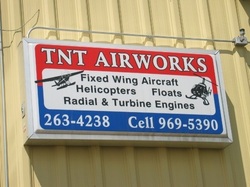 TNT Airworks is a family owned and operated business with over 23 years of experience. Thomas D. Carlson, President, has extensive experience which includes 16 years working on Bush Planes in Alaska. He has performed contract maintenance for the Alaska State Troopers, Alaska Department of Fish & Game, U.S Forest Service and U.S. Department of the Interior. Besides being IA certified since 1990, Tom is also Pratt & Whitney PT6 and Robinson Helicopter Certified.
TNT Airworks is committed to providing exceptional maintence on all general aviation aircraft, including, Schweizer and Robinson Helicopters. TNT Airworks specialises in Major Repairs, Major Alterations, Structural Repairs, Cessna 100 Series Wing, Aileron and Horizontal Stabilizer Rebuilds, Sheet Metal Work, Annuals, 100hrs, Float Installation & Repairs and Dynamic Propeller Balancing.